Join us on Saturday 11th and 18th November to create your own lantern for Illuminate Bermondsey Lantern Parade
Illuminate Bermondsey is a free annual festival organised by and for local residents, inspired by the histories of the Thames, the docks and migration. Local schools and community groups will make their own lanterns at artist-led workshops over the preceding weeks, and everyone would be invited to assemble with their illuminated artworks in The Blue Market from 5pm on Friday 24th November 2023 for the 5th annual lantern procession departing as darkness falls for Southwark Park.
FREE LANTERN MAKING WORKSHOPS
SATURDAY 11 & 18 NOVEMBER 2023
FROM 12PM TO 3PM FREE ENTRY
MARKET PLACE LONDON SE16 3UQ
parade on Friday 24 November
The Parade would assemble in The Blue Market from 5pm and depart as the sunsets at 5.30pm escorted by volunteer stewards and qualified security and would arrive in Southwark Park at approximately 6pm. The bandstand will be decorated with lighting, lanterns and projections. Hot refreshments would be delivered by local caters to the bandstand and live music will be played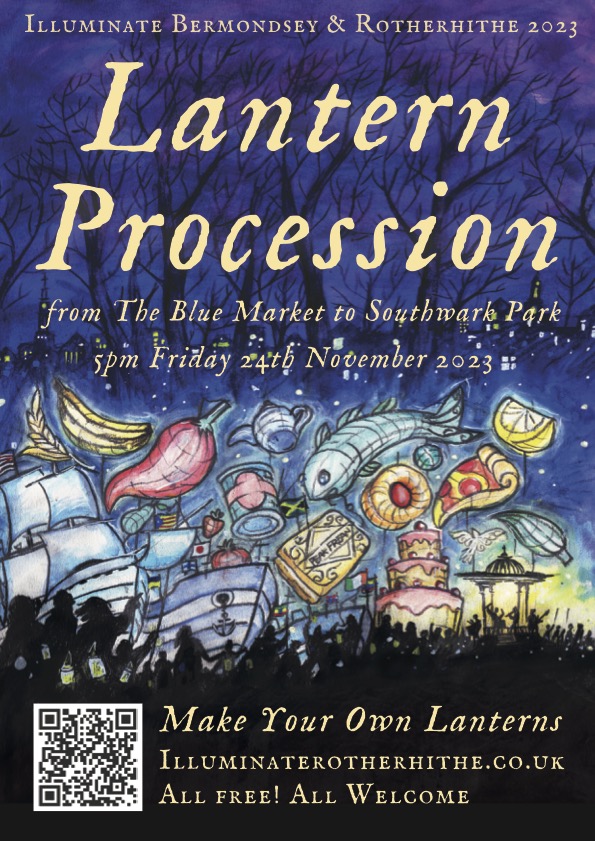 WINTER STORYTELLING SATURDAY 25 NOVEMBER
An afternoon of seasonal folk tales for children celebrating 'light' amongst a display of lantern. Lantern from Illuminate Bermondsey Lantern Parade. Special guest story tellers from London Dreamtime.
You are welcome to join an interactive family storytelling session on the theme of 'Light' run by the team at Space For Storytelling with London Dreamtime. Our professional Storytellers will delight young people and grown-ups with fantastic stories of light as the nights draw in.
The storytelling will be set amongst a display of Lantern and artwork made for Illuminate Bermondsey Lantern Parade. In-between the stories there will be a second chance to see the amazing lanterns made for the parade and a free drop-in Magic Lantern craft workshop with Frog Morris.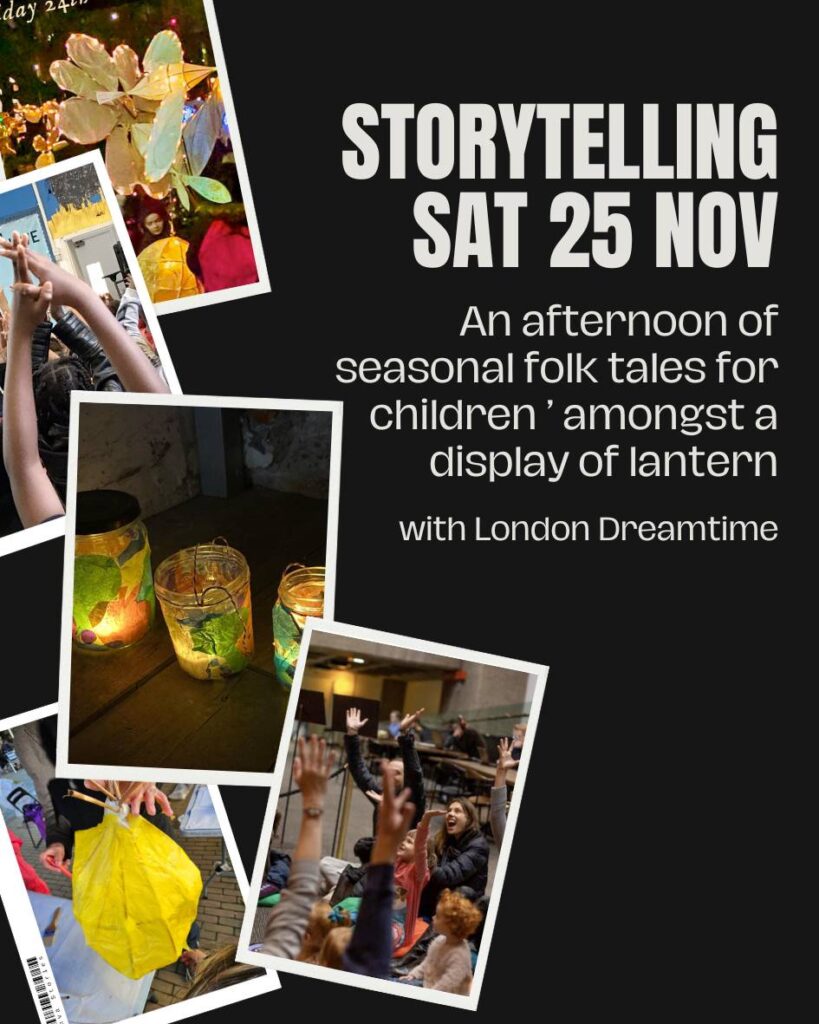 ILLUMINATE ROTHERHITHE AND BERMONDSEY HISTORY
In 2019 Illuminate Rotherhithe expanded into Bermondsey with new schools and community groups joining in the celebrations through the streets of Southwark. Illuminate has grown year on year, involving new people each time in schools, libraries, TRA Halls, Care Centres, pubs, churches, youth clubs, community centres, gardens and public spaces across Rotherhithe and Bermondsey.
The 2022 parade in Southwark Park drew many hundreds of participants and volunteers with their own hand-made lanterns in a spectacle of community creativity. Illuminate Bermondsey and Rotherhithe has built positive relationships with many schools and community groups, offering valuable outreach engaging a diverse mix of local people with Southwark Park for this event. Taking part will be local schools St James, Galleywall, St. Joseph's Gomm Rd, Riverside, Rotherhithe and St. Michaels as well as returning to Bede Centre, Galleywall Nature Reserve and Time & Talents.
Though Illuminate Rotherhithe was tied to the Mayflower celebration which are now over, we have now partnered with Blue Bermondsey BID and Big Local Works and The Blue Market to continue the Bermondsey Lantern Parade and use the Blue Market place as its starting point. This will tie into their English Heritage Unheard Voices / Hidden Histories project exploring the multi-cultural origins of the local working-class community.
The Parade finale would once again be in Southwark Park at The Bandstand with a display of lights and music and refreshments. As well as looking specular, the Park provides a much safer space for families to gather away from busy roads and is also provides easy accessibility for community members with mobility problems making the event even more inclusive.
---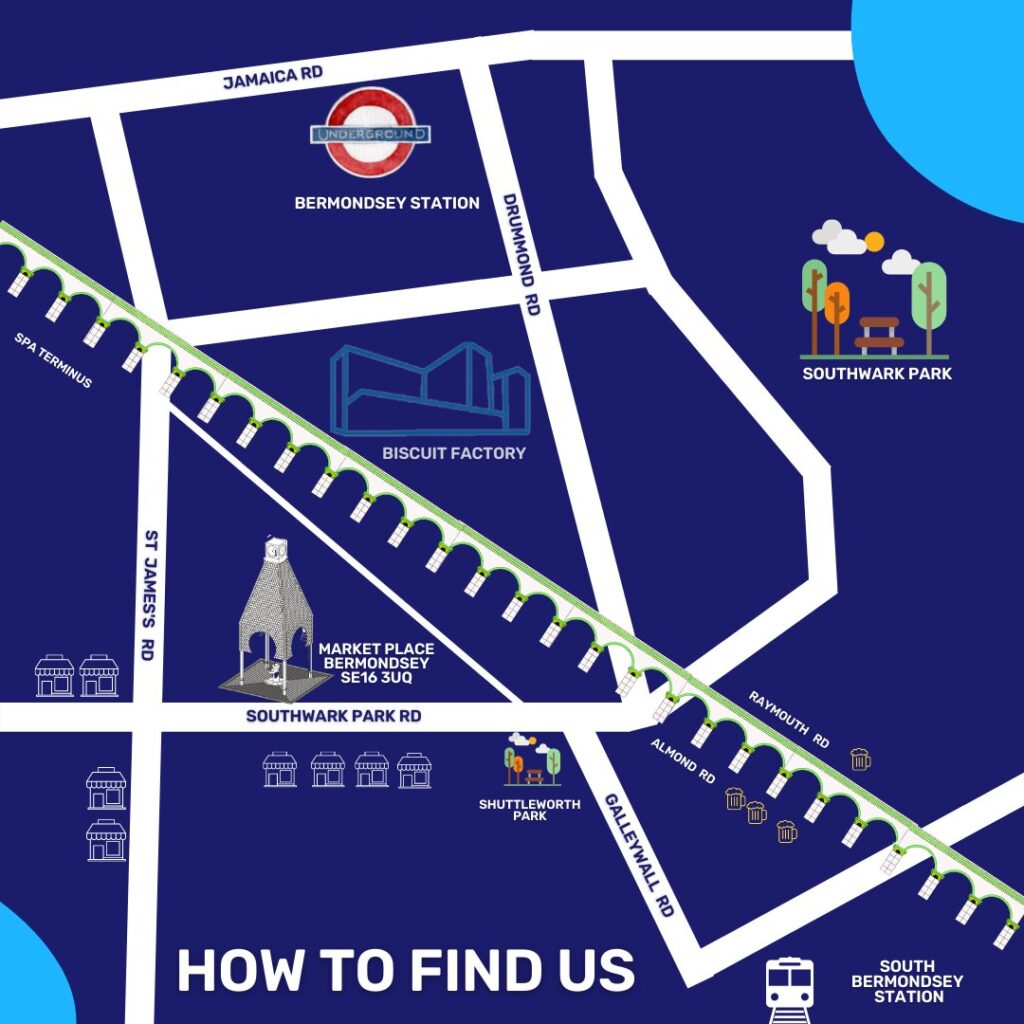 How to get there: